Graduates choose work with purpose
Article | Updated: 12 March 2019
The Victorian Government graduate program connects career with community benefit.
University graduates are choosing the Victorian Government over private employers because they want to do something that means something. Graduates want to connect their career with community benefit and the public service is uniquely positioned to offer that.
Chrissy found work with purpose through the graduate program. She's drawing on her criminology degree to improve family violence services:
I can honestly say I'm in my dream job. I'm contributing to the implementation of recommendations from the Royal Commission into Family Violence. I'm researching better ways to serve Family Violence Intervention Order applications. I hope that my work will contribute to a more effective system and help make a difficult time easier for the thousands of people affected by family violence each year.
Chrissy features in a new video about the graduate program. Watch Chrissy's story.
The Victorian Government recruited 81 graduates in 2018 and 90 graduates in 2019. The government is planning to expand the cohort size by 20 per cent in 2020, a future-focussed move to build workforce capability.
The graduate program provides a twelve month introduction to working in government. Graduates start as a VPS Grade 2, then rotate across three different roles receiving training and development to prepare them for a VPS Grade 3 role on completion. Networking opportunities and exposure to senior leaders complement the graduate experience.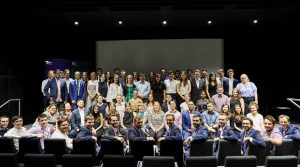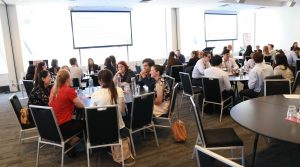 The Victorian Public Sector Commission delivers the graduate program. Commissioner Paul Grimes, addressed graduates at induction:
When you work for the Victorian Government, you work for the people of Victoria. Victoria is a leader in innovation, progressive social change and infrastructure projects. The graduate program supports you to be part of that.
Applications for 2020 are now open.
Applicants can choose from three streams: generalist, accounting and finance or economic consultancy. Aboriginal graduates and graduates with disability can receive personalised support via entry pathways.
Apply by 24 March at grads.vic.gov.au