Graduates shape Victoria's future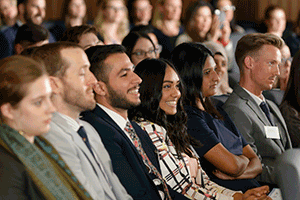 On Wednesday 14 March 2018, VPSC congratulated 90 participants of the 2017 Graduate Recruitment and Development Scheme (GRADS).
Graduates completed 12 months of development and are now valued employees of the Victorian Public Service.
The Hon. Gavin Jennings MLC and the Victorian Public Sector Commissioner Paul Grimes hosted a graduation ceremony to mark the occasion. The Commissioner acknowledged the 34th cohort for their unique contributions to the workforce and offered words of encouragement:
"Though you have come to the end of your graduate year, you will continue to be challenged and you will have many opportunities to add to the breadth of your experience. I encourage you to embrace both challenge and opportunity. Always keep in mind the people and communities at the heart of what we do. We work for Victorians."
Adam Dearing, GRADS participant and Economist at Department of Environment, Land, Water and Planning also addressed the audience of approximately 140 which included executive leaders, graduate supervisors, peers and alumni:
 "I spoke with a number of executive leaders during my GRADS experience. One of the reasons they like to hire GRADS is because of the broad networks we create during rotations. We bring all of those staff connections back to our home department when we return. That's valuable."
The GRADS offers variety, opportunity and challenge. Graduates are provided the opportunity to rotate across different government Departments or Agencies, undertake a comprehensive learning and development program and contribute to important work that makes a real difference to the lives of Victorians. Ismini Karamesinis, GRADS participant and Regulatory Analyst at Essential Services Commission reflected on her experience:
"Some of the highlights of GRADS were the workplace rotations, the skills training and getting to know other graduates. The rotations were challenging because each involved working in a new team in a new department doing different work. I enjoyed the variety and I met many people across the VPS. The whole-of-government knowledge I gained has helped me understand how government works."
The Victorian Government is looking for motivated and diverse graduates to shape Victoria's future. Applications for the 2019 intake are now open. Visit graduates.vic.gov.au to apply.
You can contact the GRADS team by email at vpsgrads@vpsc.vic.gov.au