The case for change
HTML Resource | Updated: 27 July 2017
This document is part of the Aboriginal Employment Resources resource.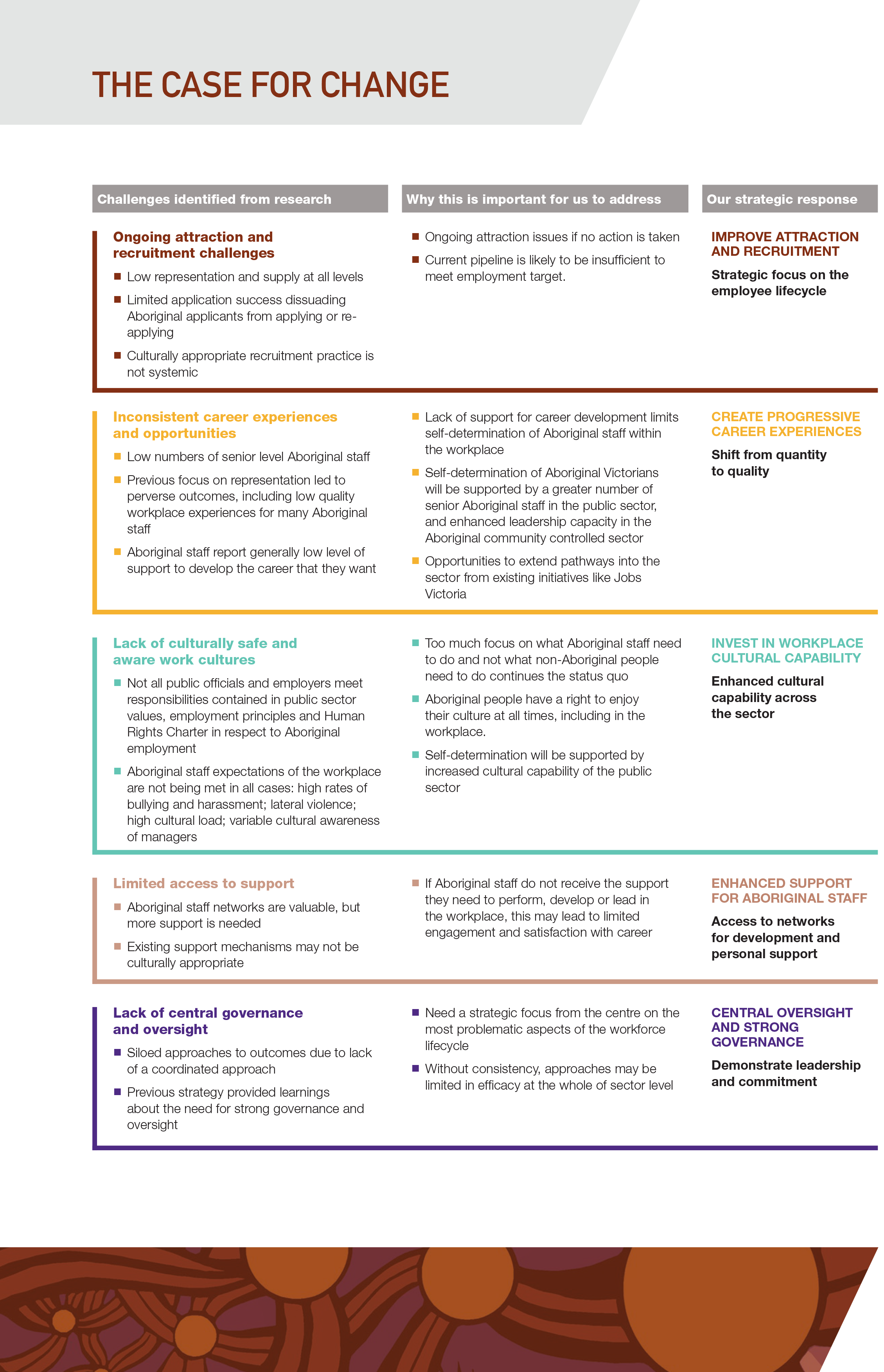 Click on the image for full size display.
Full text image description follows.
---
Ongoing attraction and recruitment challenges
Challenges identified from research
Low representation and supply at all levels
Limited application success dissuading Aboriginal applicants from applying or re- applying
Culturally appropriate recruitment practice is not systemic
Why this is important for us to address
Ongoing attraction issues if no action is taken
Current pipeline is likely to be insufficient to meet employment target.
Our strategic response
Improve attraction and recruitment
Strategic focus on the employee lifecycle
Inconsistent career experiences and opportunities
Challenges identified from research
Low numbers of senior level Aboriginal staff
Previous focus on representation led to perverse outcomes, including low quality workplace experiences for many Aboriginal staff
Aboriginal staff report generally low level of support to develop the career that they want
Why this is important for us to address
Lack of support for career development limits self-determination of Aboriginal staff within the workplace
Self-determination of Aboriginal Victorians will be supported by a greater number of senior Aboriginal staff in the public sector, and enhanced leadership capacity in the Aboriginal community controlled sector
Opportunities to extend pathways into the sector from existing initiatives like Jobs Victoria
Our strategic response
Create progressive career experiences
Shift from quantity to quality
Lack of culturally safe and aware work cultures
Challenges identified from research
Not all public officials and employers meet responsibilities contained in public sector values, employment principles and Human Rights Charter in respect to Aboriginal employment
Aboriginal staff expectations of the workplace are not being met in all cases: high rates of bullying and harassment; lateral violence; high cultural load; variable cultural awareness of managers
Why this is important for us to address
Too much focus on what Aboriginal staff need to do and not what non-Aboriginal people need to do continues the status quo
Aboriginal people have a right to enjoy their culture at all times, including in the workplace.
Self-determination will be supported by increased cultural capability of the public sector
Our strategic response
Invest in workplace cultural capability
Enhanced cultural capability across the sector
Limited access to support
Challenges identified from research
Aboriginal staff networks are valuable, but more support is needed
Existing support mechanisms may not be culturally appropriate
Why this is important for us to address
If Aboriginal staff do not receive the support they need to perform, develop or lead in the workplace, this may lead to limited engagement and satisfaction with career
Our strategic response
Enhanced support for Aboriginal staff
Access to networks for development and personal support
Lack of central governance and oversight
Challenges identified from research
Siloed approaches to outcomes due to lack of a coordinated approach
Previous strategy provided learnings about the need for strong governance and oversight
Why this is important for us to address
Need a strategic focus from the centre on the most problematic aspects of the workforce lifecycle
Without consistency, approaches may be limited in efficacy at the whole of sector level
Our strategic response
Central oversight and strong governance
Demonstrate leadership and commitment