Government and community trust in public sector integrity is critical to the effectiveness of public sector employees and agencies. This trust enables the public sector to implement policy and deliver services for the benefit of all Victorians.
Public sector officials are entrusted with considerable powers, resources, and information to fulfil their duties to deliver outcomes for the Victorian public. In Victoria, this includes more than 33,000 board members and over 285,000 staff employed by over 3,300 public sector bodies. Their roles and responsibilities cover many industries and disciplines, including health, education, water and land management, transport, finance, emergency services, arts, sports and recreation, and regulation.
Building and maintaining sustained community and government trust requires dedicated efforts from all parts of the Victorian public sector. VPSC has a central leadership role in coordinating integrity efforts. VPSC:
has a statutory objective to maintain and advocate for public sector integrity;
is responsible for issuing binding codes of conduct and employment standards; and
is a member of the Victorian Secretaries Board (VSB), which has a public sector stewardship role.
In Victoria, the Public Administration Act 2004 (PAA) establishes seven public sector values and six employment principles to guide public sector employees, directors and agencies in their work. These are at the centre of public sector responsibilities to serve Government and the Victorian community.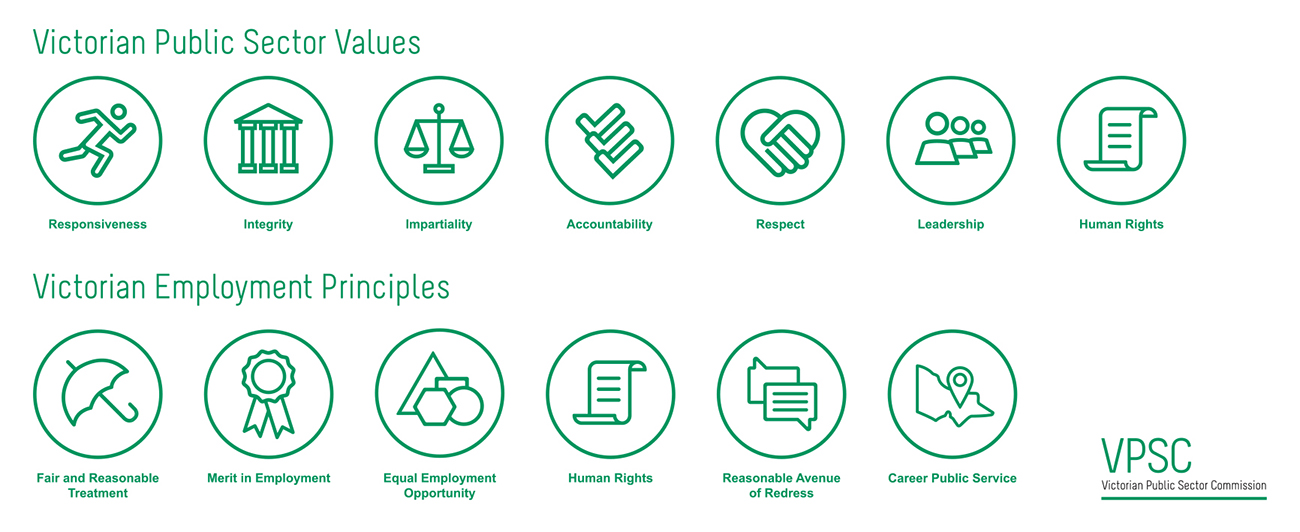 The Victorian Public Sector Commissioner has issued three Codes of Conduct that set out expectations and guide how public sector employees, consultants, contractors, directors and special body staff demonstrate the values in their work and interactions with the government, the community and each other. Each code is binding on a particular category of public official, including Victorian public sector employees; directors of Victorian public entities; and Victorian public sector employees of special bodies.
This Integrity Strategy sets out how VPSC has and will support public sector employers and employees to strengthen integrity and adherence to the public sector values and codes of conduct. During 2016, VPSC focused on reinforcing the organisational systems that enable and support integrity, including issuing codes, guidance, frameworks and policies (see Section 3 for more details).
In 2017, VPSC is focusing on building the awareness and understanding of both leaders and employees to demonstrate integrity behaviours at work. The key initiatives for 2017-18 year are:
A new Integrity Portal to provide clear, accessible and easy-to-navigate information about the public sector values and employment principles;
Values promotion and engagement incorporating a strategic approach to communicating and engagement about integrity matters;
Specific integrity projects to address problem areas, such as bullying; and
Meeting statutory functions by continuing to fulfil its functions under the PAA to provide avenues of redress, administer registers, provide advice and seek information from public sector agencies.