Human Rights Week
Article | Updated: 11 December 2018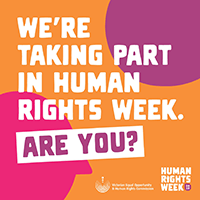 This week we celebrate the 70th anniversary of the Universal Declaration of Human Rights.
This important document underpins international human rights law and the Victorian Charter of Human Rights and Responsibilities that was introduced in 2006.
Did you know that human rights is both a public sector value and an employment principle? This means that human rights as set out in the Charter not only guide how the public sector develops policies and delivers services to the Victorian community but also how public sector employers manage their staff.
For clarification, the Public Administration Act 2004 requires the public sector to:
make decisions and provide advice that is consistent with human rights
implement, promote and support human rights
establish employment process that uphold human rights
The Victorian Public Sector Commission assists public sector bodies to comply with the Charter by issuing codes of conduct to reinforce the values, and standards for applying the employment principles. It also delivers programs to assist new graduates, Aboriginal people and people with disabilities to embark on fulfilling careers in the public sector.
This is an important week in which to join colleagues to celebrate and reflect on the importance of human rights to the Victorian community.