New Aboriginal Employment strategy for Victorian public sector
Article | Updated: 14 August 2017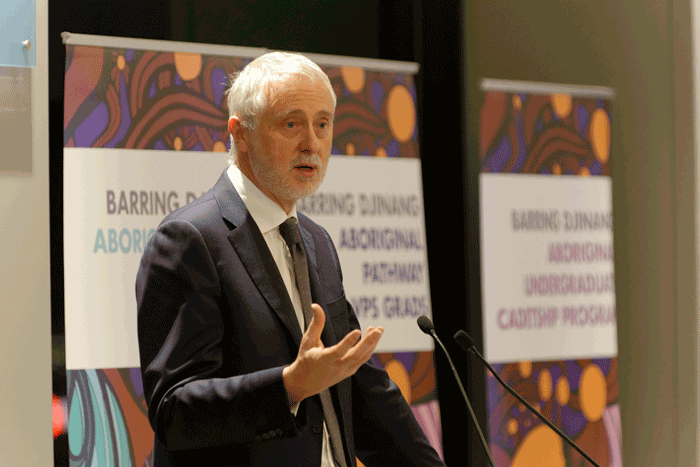 Barring Djinang was officially co-launched by Special Minister of State, Gavin Jennings MLC and our A/Commissioner, Elizabeth Langdon.
Barring Djinang is the new 5-year Aboriginal Employment Strategy for the Victorian public sector.
The Strategy's launch follows extensive planning, research and consultation across the Victorian public sector, Aboriginal controlled organisations and the Aboriginal community.
Barring Djinang will build the cultural capability of the public sector and ensure Aboriginal people are the centre of decision-making about Aboriginal employment in the public sector.
Elizabeth Langdon introduced the Strategy noting that,
"Barring Djinang will create new employment opportunities and pathways into and within the public sector; work to raise the Aboriginal cultural capability of the public sector, and will improve the level of coordination and consistency of approaches to Aboriginal employment across government."

"The Strategy will help to ensure that the Victorian public sector can work more effectively with the community it serves. This includes supporting Aboriginal self-determination and ensuring that the priorities of Aboriginal Victorians shape the work of government."
Minister Jennings was enthusiastic about the Strategy's focus and initiatives.
"By building upon and supporting existing programs across departments and agencies, the sustainable initiatives in this Strategy will drive improvements in Aboriginal employment outcomes. To this end, Barring Djinang continues to build a highly capable public sector that benefits from the unique skills and experience that Aboriginal employees bring into the workplace."
New and existing initiatives will be progressively implemented over the course of the strategy.
Visit our Barring Djinang page for a summary of the Strategy as well as pictures from the launch event.