Public Service welcomes 81 graduates into GRADS program
Article | Updated: 23 November 2017
On Wednesday, 22 November 2017, VPSC welcomed a successful 81 of 1,878 applicants into the Graduate Recruitment and Development Scheme (GRADS).
Now in its 35th year, GRADS provides a 12 month experience which includes four-month rotations across three different VPS organisations. They will be exposed to a variety of work environments, challenged to develop a range of skills, and learn from their peers and mentors to form a solid foundation for a long-term career in public service along with knowledge and values to support the Victorian public service.
Chris Eccles AO, Secretary Department of Premier and Cabinet provided the keynote address and VPSC's A/Commissioner, Elizabeth Langdon held MC duties to an estimated crowd of over 100 public sector employees, including current and previous graduates.
The theme for the evening centred around the role of the modern public servant to support government and the community, while still being agile in an ever-changing environment.
"As public servants, we hold positions of trust. We use public money and with that comes a responsibility to operate efficiently and effectively to provide the best possible services to our communities.

We join the public service because we care. When we're at our best, it's because there's a strong moral purpose to what we do, and good structures in place, motivating us to work for the common good." said Chris.
A representative from the Aboriginal Pathway, Jordyn Flagg spoke about her experience in the Aboriginal Pathway program.
"I really enjoyed GRADS ability to connect with me other successful young Aboriginal people through the Aboriginal staff networks in Departments as well as people at more senior levels who I can look towards as mentors."
Prachi Samir, a graduate from the 2017 GRADS cohort and now employed at the Department of Environment, Land, Water and Planning (DELWP) shared some tips with the incoming graduates.
"If you hear or come across some interesting work that someone on your floor is working on, ask them if they can tell you a bit more about their work. Making the effort to engage with someone outside of your immediate work team can foster strong cross-collaborative skills."
President of the Graduate Recruitment Alumni Society (GRAS), Miles Hutchinson helped conclude the night by introducing the graduates to the 19-year alumni community which acts as a social and professional network for past and present graduates.
In her closing comments, VPSC A/Commissioner, Elizabeth Langdon encouraged the graduates to push themselves out of their comfort zones.
"Be as open as you can be. It's challenging to rotate into three different workplaces in one year, but you will learn as much from any complex rotation as you will the fun ones. Try new things, extend your knowledge and use your mentors.

This year, is as much about finding out what you don't want to do as it is about finding out what you do.

Seek out and take feedback. It's not always easy, but you will find the GRADS support network are there for you to get the most out of this year.

Feedback gives you insight into how other people view your strengths and your development needs, and that, really is valuable. Your biggest risk isn't failing; it's getting too comfortable," Langdon concluded.
Following the formalities, the evening continued with refreshments and an opportunity to network with mentors and peers.
Applications open in March 2018 for the Victorian GRADS 2019 intake. For more information, please visit https://graduates.vic.gov.au.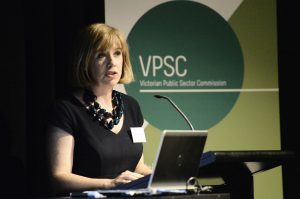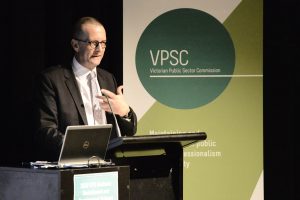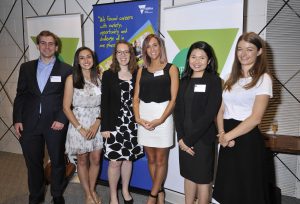 Read the keynote speech from Chris Eccles (DOCX, 24KB, 4 pages)
All comments from Elizabeth Langdon (DOCX, 30KB, 3 pages)
Jordyn Flagg GRADS Speech web transcript (DOCX, 392KB, 2 pages)
Miles Hutchison GRADS Speech web transcript (DOCX, 392KB, 2 pages)
Prachi Samir GRADS Speech web transcript (DOCX, 396KB, 4 pages)