General gazette 43 (G43), 25 October 2018
Victorian Government Public Entity Executive Remuneration Policy
Victorian Government Public Entity Executive Remuneration Policy (PDF)
Public Administration Act 2004
VICTORIAN GOVERNMENT PUBLIC ENTITY EXECUTIVE REMUNERATION POLICY
Order in Council
The Governor in Council, under section 92 of the Public Administration Act 2004 and on the recommendation of the Premier, makes an Order requiring specified public entities in the Schedule to this Order to comply with the Victorian Government Public Entity Executive Remuneration Policy (Policy). The Policy is contained in the Schedule to this Order.
This Order comes into effect on 8 November 2018.
Dated 23 October 2018
Responsible Minister:
THE HON DANIEL ANDREWS MP
Premier
ANDREW ROBINSON
Clerk of the Executive Council
Public Administration Act 2004
VICTORIAN GOVERNMENT PUBLIC ENTITY EXECUTIVE REMUNERATION POLICY
SCHEDULE TO THE ORDER IN COUNCIL
1.Objective
1.1 The Victorian Government Public Entity Executive Remuneration Policy ('policy') details the Victorian Government's approach to executive remuneration in specified public entities, and the role of the Office of Public Sector Executive Remuneration (OPSER) in administering the policy.
2. Commencement
2.1 This policy comes into operation on 8 November 2018, as it is the Schedule to an Order made by the Governor in Council under section 92 of the Public Administration Act 2004 (PAA) to specify public entities to comply with this policy.
3. Revocation
3.1 The Policy on Executive Remuneration in Public Entities, overseen by the Government Sector Executive Remuneration Panel, is revoked. The OPSER will assume responsibility for oversight of executive remuneration in public entities.
4. Scope
4.1 This policy sets out the procedures, and a framework of five guiding principles, for the following bodies and officers involved in the setting of executive remuneration in specified public entities:
boards (or equivalent governing bodies) of public entities
public entity chief executive officers (CEOs) and their subordinate executives
human resources and other staff in portfolio departments and public entities.
4.2 This policy applies to the following senior executive appointments and reappointments in public entities:
CEOs (however titled) of public entities; or an employee of a public entity who:

receives a total remuneration package (TRP) equal to or greater than the base of the Victorian Public Service (VPS) executive officer remuneration range; and
has significant management responsibility, that is, the primary role of the employee is to provide leadership and strategic direction for other staff members.
4.3 The policy also applies to subordinate executives in public entities, where the TRP of the individual executive proposed:
exceeds 80% of the TRP approved by the OPSER for the CEO of the same public entity; or
will result in the average TRP of all the CEO's direct reports exceeding 70% of the CEO's TRP.
4.4 For the avoidance of doubt, this policy does not apply to:
staff whose remuneration rates are specified by an award or enterprise agreement
technical specialists who meet the remuneration criteria outlined above, but do not have a people management function
statutory or prerogative office holders appointed to public entities
VPS executives employed under Part 3 of the PAA, including by virtue of a specific legislative reference or an order/instrument made under legislation.
4.5 The policy also sets out the mandatory employment terms and conditions for public entity executive contracts and arrangements for executive bonuses.
4.6 The public entities subject to this policy are listed under paragraph 9.1. These include water authorities, some land and catchment authorities, waste management authorities, TAFEs and certain emergency services organisations, some cemetery trusts, transport bodies and finance entities.
4.7 This policy should be read in conjunction with the OPSER's Guide to the Victorian Government Public Entity Executive Remuneration Policy, which provides detailed information about how to apply the policy and defines key terms. The guide is available at www.vic.gov.au/public-sector-executive-remuneration.html.
5. Principles for public entity executive remuneration
5.1 The following principles are to guide public entity boards in preparing submissions for the OPSER. These principles will also guide the OPSER's assessment of board submissions, enabling decisions to be made regarding executive remuneration in public entities.
Principle 1: Executive remuneration should be fair and reasonable
Executives in public entities should receive fair and reasonable recompense for performing their public duties.
Principle 2: Executive remuneration should consider entity performance as well as Victorian fiscal and economic conditions
Executive remuneration decisions should have regard to the financial performance of the entity. Decisions should also consider the fiscal and economic conditions of the state, reflected in the Victorian Government's wages policy, as updated from time to time.
Principle 3: Executive remuneration should be competitive
Remuneration should be set at a competitive level for the relevant market and sector, so as to attract and retain talented people.
Principle 4: Executive remuneration should reflect the non-financial benefits of public sector employment
Remuneration should not be the overriding factor in attracting and retaining executives, in recognition of the fact that there are a variety of non-financial benefits of public sector employment.
Principle 5: Executive remuneration arrangements should be consistent and understandable to both executives and the general public
The methodology underpinning remuneration decisions should be robust and based on rigorous analysis of all of the relevant factors.
6. Overview of the submission process
6.1 A board chair must make a submission to the OPSER seeking approval for an executive's
remuneration in the following circumstances:
incoming CEO in a newly established or existing entity
reappointment of an incumbent CEO, where an increase in TRP is proposed
any proposed mid-contract adjustment to a CEO's TRP that is greater than the Premier's annual adjustment (see paragraph 7.1 of this policy)
subordinate executives, as outlined in paragraph 4.3 of this policy.
6.2 A diagram describing the process for making a submission to the OPSER appears on the following page. A key difference between the former GSERP submission process and the OPSER's process is the requirement for boards to provide their submission to their portfolio department Secretary (or delegate) for consideration prior to submitting formally to the OPSER.
6.3 Following consideration of the submission, the department will forward the submission,
together with its comments, to the OPSER, for decision.
6.4 Boards are invited to provide a draft submission to the OPSER for feedback or comment
prior to formally submitting it to their portfolio department Secretary.
6.5 More information on the submission process is available in the Guide to the Victorian
Government Public Entity Executive Remuneration Policy. Both the guide and the online
form for making a submission are available at www.vic.gov.au/public-sector-executive-remuneration.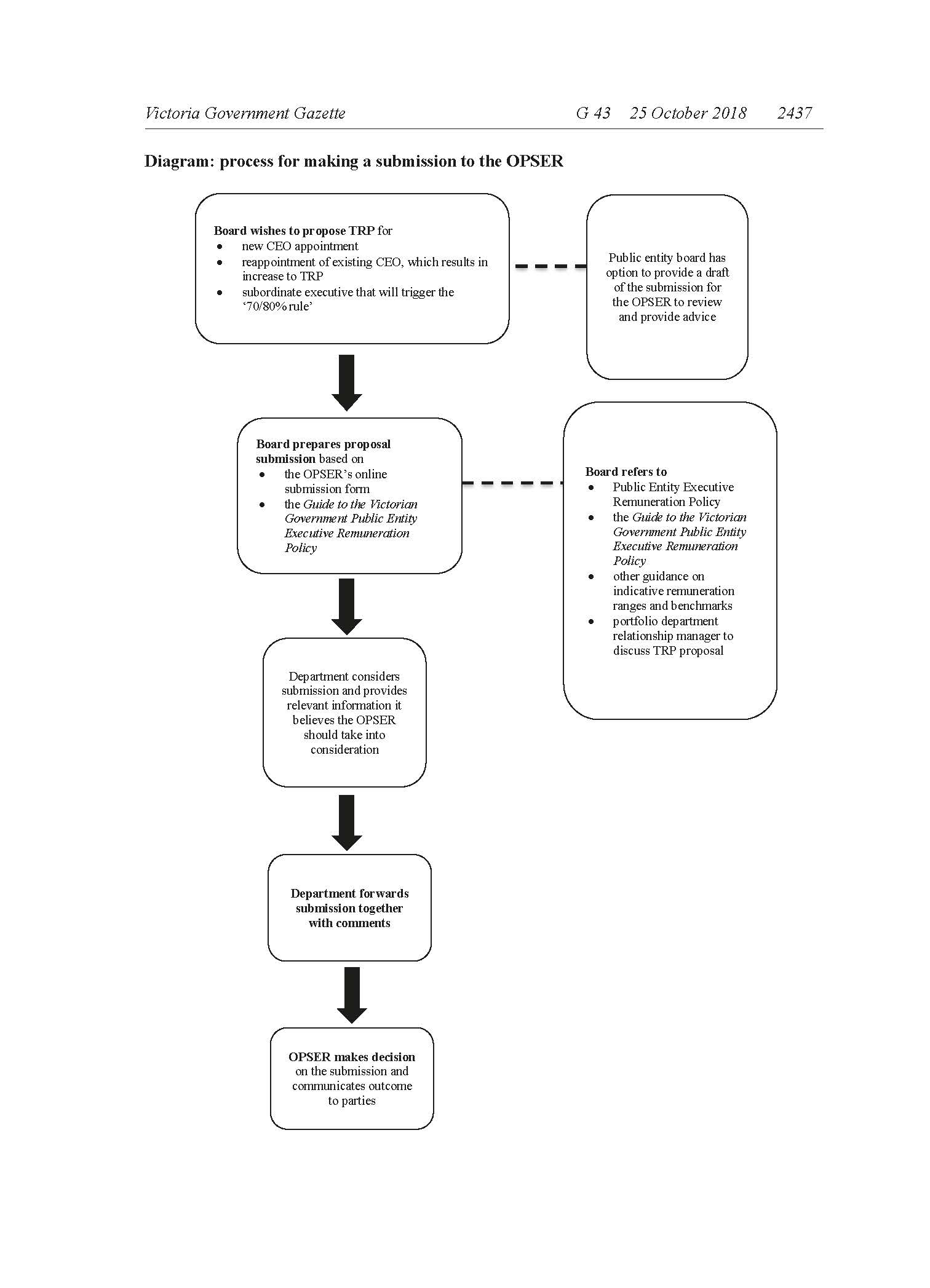 7. Other remuneration and contractual matters: annual adjustment, mandatory contract terms and bonus opportunity
7.1 Boards may also choose to increase a CEO's TRP by the Premier's annual adjustment. For 2018–19, the Premier has determined the annual adjustment to be 2%. The annual adjustment to TRP may be made at any time during the 12 month period to 30 June 2019, but not backdated prior to 1 July 2018.
7.2 The mandatory contractual terms and conditions for public entity executives applicable under the GSERP policy framework which continue under this policy are:
contract of employment to be offered for a period of up to five years
TRP includes salary, superannuation, the cost of a motor vehicle to an employer and the cost of other employment benefits and associated fringe benefits tax, but excludes general business expenses such as laptop computers, mobile phones or study leave
termination of contract provisions – the employer may terminate a contract by providing the executive with four months' notice in writing
no compensation for termination of a contract beyond payment in lieu of notice and accrued leave
an unexpired portion of a contract may only be paid out in exceptional circumstances, with the written consent of the relevant department Secretary
capped bonus opportunity (see below).
7.3 The mandatory terms and conditions outlined above are reflected in the template public entity executive contract available from the Victorian Public Sector Commission website. Boards of public entities are encouraged to use the standard executive contract template (although all the other provisions in the template contract are not compulsory).
7.4 The maximum bonus opportunity available to public entity executives in 2018–2019 will be either 17% or 20%, with the exception of health services executives, which are eligible for a maximum opportunity of 10%.
7.5 Since 1 July 2005, existing public entity executives with a total bonus opportunity of 20% have had the option to increase their TRP by 3% through a reduction in the bonus opportunity from 20% to 17%. This option may be applied only once. If applied, it would involve a change in contract terms, which would require the relevant executive to acknowledge and accept the variation in writing. If an executive does not wish to accept the change, the existing terms of their contract shall be preserved. The adjustment to bonus opportunity applies prospectively and relates to the first performance year commencing on or after 1 July 2005.
7.6 Bonuses should only be paid when an executive's performance exceeds planned targets. The total cost of bonuses in a public entity where a 17% maximum opportunity currently applies cannot exceed 6% of the pro rata aggregate of TRPs of those executives who are assessed for a bonus. Executives or public entities that have opted to retain the 20% bonus opportunity are not subject to the 6% total bonus average provisions.
7.7 In certain circumstances the bonus arrangements may cause difficulty, such as in smaller public entities with few executives, and more generally in situations when business performance has been outstanding and warrants executive bonus payments in excess of the 6% average. In these circumstances, boards must seek approval in writing from the portfolio department Secretary to exceed this guideline.
8. Contact
8.1 For further information regarding this policy, please contact the Office of Public Sector Executive Remuneration, Department of Premier and Cabinet, via email address opser.contact@dpc.vic.gov.au.
9. Public entities specified to be subject to this policy
9.1 The public entities listed in the Table are subject to this policy. This has been determined in consultation with departments.
| | |
| --- | --- |
| Table | |
| Accident Compensation Conciliation Service | Metropolitan Waste and Resource Recovery Group |
| Agriculture Victoria Services Pty Ltd | Mount Buller and Mount Stirling Alpine Resort Management Board |
| AMES Australia | Mount Hotham Resort Management Board |
| Architects Registration Board of Victoria | North Central Catchment Management Authority |
| Australian Grand Prix Corporation | North East Catchment Management Authority |
| Ballarat General Cemeteries Trust | North East Region Water Corporation |
| Barwon Coast Committee of Management | North East Waste and Resource Recovery Group |
| Barwon Region Water Corporation | Old Treasury Building Reserve Committee of Management |
| Barwon South West Waste and Resource Recovery Group | Parks Victoria |
| Bellarine Bayside Foreshore Committee of Management (Inc) | Phillip Island Nature Park Board of Management |
| Bendigo Kangan Institute | Port of Hastings Development Authority |
| Box Hill Institute (including the Centre for Adult Education) | Port Phillip and Westernport Catchment Management Authority |
| BreastScreen Victoria | PrimeSafe |
| Capel Sound Foreshore Committee of Management Inc | Public Transport Victoria |
| Central Highlands Region Water Corporation | Queen Victoria Women's Centre Trust |
| Chisholm Institute | Remembrance Park Central Victoria |
| City West Water Corporation | Respect Victoria |
| Coliban Region Water Corporation | Royal Botanic Gardens Board |
| Consumer Policy Research Centre | Shrine of Remembrance Trust |
| Corangamite Catchment Management Authority | South East Water Corporation |
| Country Fire Authority | South Gippsland Region Water Corporation |
| Dairy Food Safety Victoria | South West Institute of TAFE |
| Development Victoria | Southern Alpine Resort Management Board |
| Docklands Studios Melbourne | Southern Metropolitan Cemeteries Trust |
| East Gippsland Catchment Management Authority | Southern Rural Water |
| East Gippsland Region Water Corporation | State Electricity Commission of Victoria |
| Emerald Tourist Railway Board | State Sport Centres Trust |
| Emergency Services Telecommunications Authority | State Trustees Limited |
| Energy Safe Victoria | Sunraysia Institute of TAFE |
| Environment Protection Authority | Sustainability Victoria (CEO Only) |
| Falls Creek Alpine Resort Management Board | The Wheeler Centre |
| Fed Square Pty Ltd | Transport Accident Commission |
| Federation Training Institute | Treasury Corporation of Victoria |
| Game Management Authority | Trust for Nature (Victoria) |
| Geelong Cemeteries Trust | V/Line Corporation |
| Geelong Performing Arts Centre Trust | VET Development Centre |
| Gippsland Ports Committee of Management | Veterinary Practitioners Registration Board of Victoria |
| Gippsland Waste and Resource Recovery Group | VicForests |
| Gippsland Water Corporation | Victoria State Emergency Service |
| Glenelg Hopkins Catchment Management Authority | Victorian Arts Centre Trust |
| Gordon Institute of TAFE | Victorian Asbestos Eradication Agency |
| Goulburn Broken Catchment Management Authority | Victorian Assisted Reproductive Treatment Authority |
| Goulburn Murray Rural Water Corporation | Victorian Building Authority |
| Goulburn Ovens Institute of TAFE | Victorian Equal Opportunity and Human Rights Commission |
| Goulburn Valley Region Water Corporation | Victorian Funds Management Corporation |
| Goulburn Valley Waste and Resource Recovery Group | Victorian Health Promotion Foundation |
| Grampians Central West Waste and Resource Recovery Group | Victorian Institute of Sport |
| Grampians Wimmera Mallee Water Corporation | Victorian Institute of Teaching |
| Great Ocean Road Coast Committee Inc | Victorian Managed Insurance Authority |
| Greater Metropolitan Cemeteries Trust | Victorian Pharmacy Authority |
| Greater Sunraysia Pest Free Area Industry Development Committee | Victorian Planning Authority |
| Greyhound Racing Victoria | Victorian Ports Corporation (Melbourne) |
| Harness Racing Victoria | Victorian Regional Channels Authority |
| Health Purchasing Victoria | Victorian Responsible Gambling Foundation |
| Holmesglen Institute | Victorian Veterans Council |
| Kardinia Park Stadium Trust | VicTrack |
| LaunchVic | Visit Victoria |
| Legal Practitioners' Liability Committee | VITS LanguageLoop |
| Loddon Mallee Waste and Resource Recovery Group | Wannon Region Water Corporation |
| Lower Murray Urban and Rural Water Corporation | West Gippsland Catchment Management Authority |
| Mallee Catchment Management Authority | Western Region Water Corporation |
| Melbourne and Olympic Parks Trust | Westernport Region Water Corporation |
| Melbourne Convention and Exhibition Trust | William Angliss Institute of TAFE |
| Melbourne Convention Bureau | Wimmera Catchment Management Authority |
| Melbourne Market Authority | Winton Wetlands Committee of Management |
| Melbourne Polytechnic | Wodonga Institute of TAFE |
| Melbourne Recital Centre | Working Heritage |
| Melbourne Water Corporation | Yarra Valley Water Corporation |
| Metropolitan Fire and Emergency Services Board | Zoological Parks and Gardens Board |