Following machinery of government changes in late-2020 and mid-2021, the Commission underwent a functional realignment of its organisational structure to reduce areas of duplication and streamline reporting lines.
Extensive consultation with employees helped to inform the new structure, which led to the creation of 5 new director-level and 2 executive director-level roles.
The chart below reflects the Commission's current structure as at 30 August 2022.
The organisational chart for the 2021-22 period is below: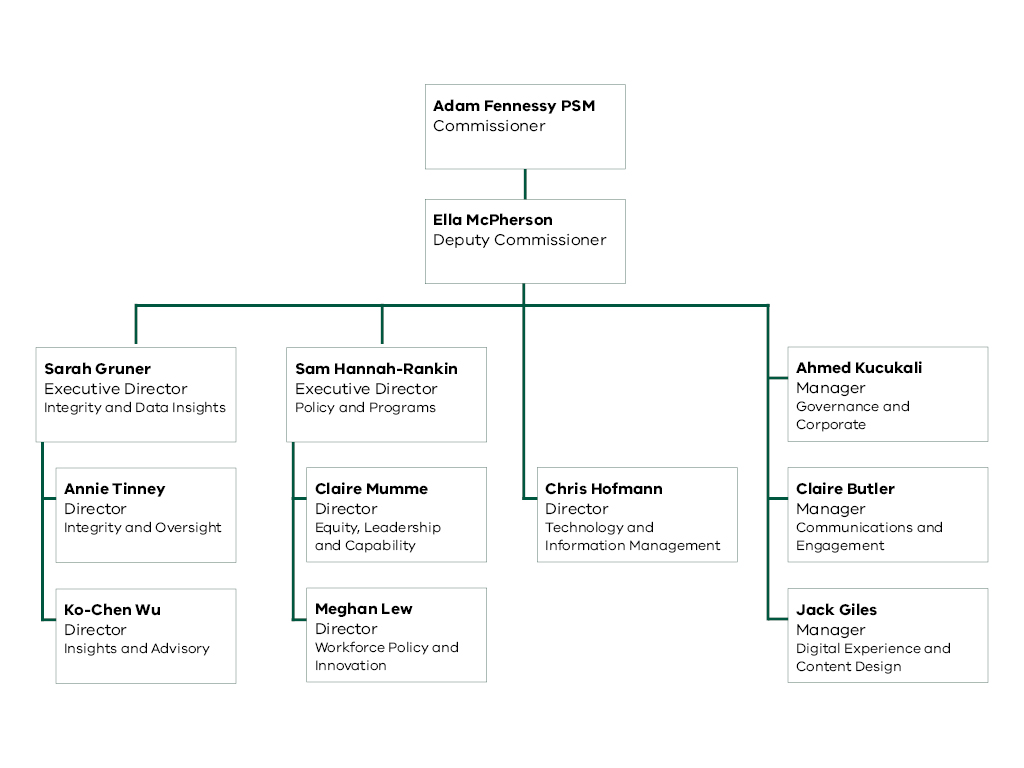 Commissioner
Adam Fennessy PSM
Deputy Commissioner
Ella McPherson (from November 2021)
Julia Griffith PSM (until November 2021)
Executive directors, branches and workgroups
Integrity and data insights
Executive Director: Sarah Gruner (from June 2022)
Executive Director, People and Analytics: Natasha Thompson (until May 2022)
Executive Director, Integrity and Advisory: Verity Harris (until May 2022)
The workgroups in Integrity and Data Insights are:
Integrity and Oversight
Director: Annie Tinney (from July 2022)
Insights and Advisory
Director: Ko‐Chen Wu (from July 2022)
Policy and programs
Executive Director: Sam Hannah‐Rankin
Executive Director, Capability and Inclusion: Daen Dorazio (until March 2022)
The workgroups in Policy and Programs are:
Workforce Policy and Innovation
Director: Meghan Lew (from July 2022)
Equity, Leadership and Capability
Director: Claire Mumme (from July 2022)
Technology and information management
Director: Chris Hofmann (from July 2022)
Office of the Deputy Commissioner
The workgroups in Office of the Deputy Commissioner are:
Governance and Corporate
Manager: Ahmed Kucukali
Communications and Engagement
Manager: Claire Butler
Digital Experience and Content Design
Manager: Jack Giles