Good governance provides the foundation for high performance.
It strengthens community confidence in public entities and helps ensure their reputations are maintained and enhanced. It should enable public entities to perform efficiently and effectively and to respond strategically to changing demands.
Governance encompasses the processes by which public entities are directed, controlled and held to account. It includes the processes whereby decisions important to the future of a public entity are taken, communicated, monitored and assessed.
Governance in the public sector is built on:
constitutional, legal and government frameworks
government decision making and reporting
authorisations and delegations in decision-making
accountability, transparency, integrity, stewardship, efficiency and leadership
values and codes of conduct
effective risk management
the integrity bodies – protecting public entities against crime and misconduct.
A board with decision-making powers is formed to govern a public entity.
Governance gives practical meaning to public sector accountability obligations. For such public entities, governance defines the relationships between the board, senior management, the minister, portfolio department, stakeholders and integrity bodies.
Accountability Framework
Central to the accountability framework is ministerial accountability to parliament and the electorate. A board is accountable to its minister.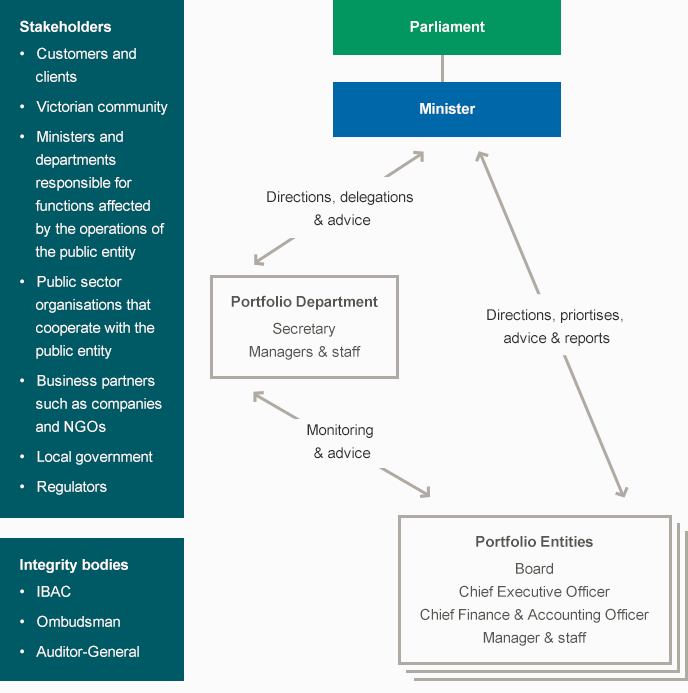 Accountability is also strengthened through the integrity bodies, which report to parliament. They include the Independent Broad-based Anti-corruption Commission (IBAC), auditor-general and the ombudsman.
The parties that play a governance role in a public entity generally include:
minister (and parliament) and those who support the minister directly
department (and departmental secretary)
public entity board and non-executive (and executive) board directors
board chair
board committees (and chairs of the committees), including audit and risk management committees that could include specialist independent members who are not themselves directors of the public entity
board secretary
chief executive officer
chief finance and accounting officer (or chief financial officer)
public entity managers and other employees
other stakeholders.