You can take part in the Victorian Leadership Academy if you're an executive officer in one of the 9 government departments or Victoria Police.
Speak to your People and Culture business partner about future nominations.
Our vision
For the Victorian Public Service to provide exceptional outcomes for all Victorians through accomplished leadership.
Our mission
To empower, engage and develop public service leaders so they can deliver a trusted, professional, efficient and impactful service to Victorians.
Who we are
Established in 2016, we offer executives ongoing professional development to lead in a changing and complex world.
As Australia's fastest growing state, executives deliver good-quality services and outcomes for our community.
Highly-skilled leadership makes the Victorian Public Service an employer of choice that's diverse, inclusive and collaborative.
Good leadership makes the public sector highly effective and capable.
What we do
We design and deliver programs to support leadership development for public service executives.
Executives who complete our programs gain new ways of thinking, leading and working, informed by best practice, evidence and data.
Our intensive programs bring together executives with their colleagues across 9 government departments and Victoria Police to develop further capability and capacity in a unique way.
Our programs are intensive and collaborative development experiences.
Their focus is on helping executives further develop new ways of thinking, leading and working.
Director program
This development program consists of 3 stages over a 12-month period.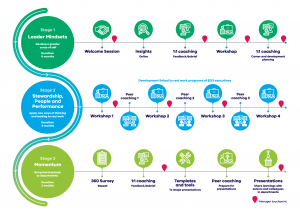 Executive Director program
This development program consists of 1 stage over a 6-month period. We're designing stage 2.

Deputy Secretary program
The Deputy Secretary 'into the future' program convenes the most senior executives to explore the challenges of leading transformational change in the Victorian Public Service.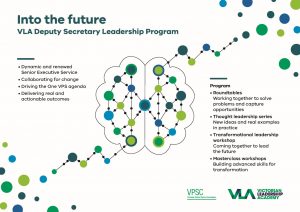 We use an impact-led approach and best practice evaluation frameworks and methods to design, deliver and measure our programs.
We partner with credible leadership experts, consultants and academics with deep executive development experience on a local and global level including:
centres for leadership in higher education
consultants
executive coaches
universities
Partners we co-design with are selected based on:
credibility
leadership experience
coaching expertise
We're a branch of the Victorian Public Sector Commission supported by:
the Victorian Secretaries Board
leaders of the 8 government departments
leaders of Victoria Police
In 2016, the Victorian Leadership Development Centre was subject to a review led by Carmel McGregor PSM.
The review called for a new leadership development model for the public sector.
This led to the 'Blueprint for the Future' that required us to:
focus development on system impact
commit to evidence in developing leaders and measuring impact
do robust external evaluation
In September 2017, the Victorian Secretaries Board looked at what capability executives and the workforce needed. They chose to shift the academy's focus to a broad uplift of leadership capability.
In September 2018, we began to put in place an expanded 'at level' development model.
We made and tested the model in consultation with the public service and the Victorian Leadership Academy Advisory Group.
In September 2019, we launched the 'into the future' program for Deputy Secretaries and equivalents . It convenes Victorian Secretaries Board members and Deputy Secretaries as a collective group of senior executive leaders.
In October 2019, with approval from the Victorian Secretaries Board, we launched the leadership development program targeted at executive directors and equivalent.
---
Executives apply new ways of thinking and leading to real work
12 April 2019
The first executives enrolled in our relaunched program have started stage two.
Stage two focuses on stewardship, people and performance.
In this stage, executives will look at:
thinking and leading collaboratively
working in new ways
With their peers, executives will use real-life work to learn new practices and capabilities to improve impacts and outcomes.
---
Connecting executives across the Victorian Public Service
28 February 2019
We've started to hold the Leader Mindset workshop: a key part in stage one of our leadership development program.
So far, we've held workshops for 44 executives from different departments.
The workshop covers:
leadership development activities
how to think, lead and work in new ways
how to equip leaders to make good outcomes for the community
We've had lots of positive feedback for those who've taken part.
As a result of the workshops, executives say they've had a chance to reflect, share challenges and connect with others.
---
We're re-launching the academy
18 September 2018
We support our leaders with what they need to meet the challenges of now and into the future. So we've redesigned the Victorian Leadership Academy.
At the core of this is the Victorian Public Sector Capability Framework.
The framework has four key capabilities we'll use in all our programs:
Stewardship
People
Performance
Leader mindsets
Approved by the Victorian Secretaries Board, we'll deliver an intensive 12-month program of continuous development.
Our new program will strengthen the capabilities of senior leaders to lead a high performing public service.
---
Your role in talent tomorrow
30 March 2018
A small group of executives across came together for the day-and-a-half workshop 'Your role in talent tomorrow'.
Facilitated by CEO and co-founder of mwah, Rhonda Brighton-Hall, the group shared what they do with talent management.
Executives shared their experiences and debated issues to help them enhance their approaches.
A workshop highlight was former VicRoads CEO John Merritt sharing his personal success stories. He spoke to how leaders can have a positive impact on people at all levels.
Two peer coaching sessions will follow this workshop.
In session 1, executives will work with a coach to:
discuss new approaches to foster talent
build capability
work out how they can test their approaches in their teams
In session 2, executives will come together to reflect on their experience and explore what's working in their team.
---
What if leadership wasn't about you
23 March 2018
What if leadership wasn't about you? What if it was about your impact on other people?
These are some of the questions executives asked themselves at the inaugural seminar 'What if leadership wasn't about you?'.
Academy head, Terri Mandler, opened the seminar by speaking of the academy's aim to build capability and foster talent in leaders.
Executives heard from facilitator Rhonda Brighton-Hall, CEO and co-founder of mwah.
Topics at the seminar included:
moving leadership from 'self'
developing to reach full individual potential
appreciating your impact on others
creating environments for others to do their best and thrive
We held the seminar at Melbourne's Hotel Windsor.