Adherence to ethical standards based on the public sector values and the Codes of Conduct reduces the level of organisational risk and increases performance.
The values and principles help people determine how things ought to be done. They guide work practices, interactions and behaviour within an organisation. They are the foundation on which an organisation operates and apply across all levels of the organisation – from the Secretary or Chief Executive to frontline employees.
The most effective ethics development programs from around the world help employees make sense of organisational values, raise awareness of ethical responsibility and assist employees to develop skills in ethical problem solving.
The Victorian Public Sector Commission's goal is for:
Employees to understand the values and principles
Managers to apply and encourage their application
Senior leaders to demonstrate and reinforce them as part of the culture of their organisation
The ethics framework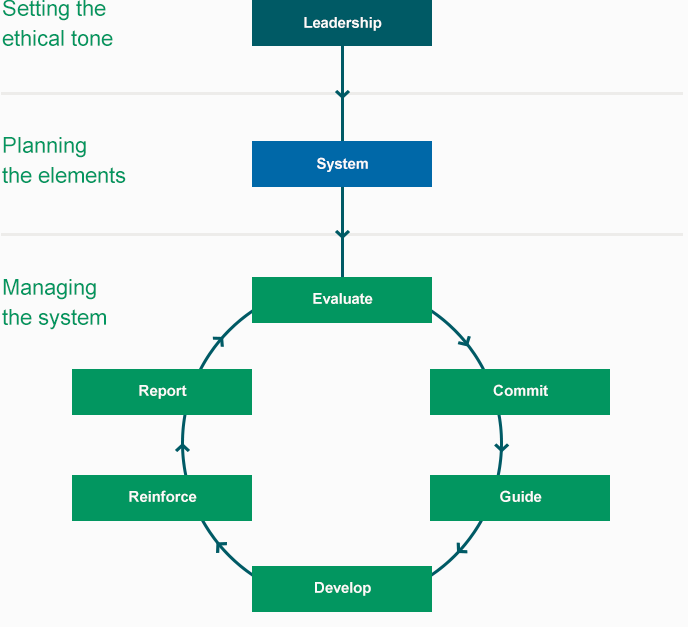 Setting the ethical tone
Senior accountability for the ethics system reassures your employees that ethical issues are taken seriously within the organisation. Think about whether your organisation has the right:
governance arrangements
style of supervision
role models.
Every organisation should appoint a senior executive Corruption Prevention and Integrity Champion to lead and coordinate work within their organisation and to share good practice. Making appropriate expectations around integrity front and centre in all performance agreements helps embed high ethical standards throughout the organisation.
Planning the elements of an ethics system
You will need to assign an ethics officer or an ethics committee to design, implement and maintain the ethics system. Their tasks will include:
conducting an ethics audit to identify ethical risks that must be addressed by the ethics system
setting up and advising you and the executive team on the design and operation of the ethics system.
Managing the ethics system day-to-day
The senior accountable officer or committee oversees a system for rewarding and encouraging ethical behaviour and deterring unacceptable behaviour. Their tasks include:
monitoring information from surveys, turnover data and other sources
informing and involving employees in discussions about the values and principles
developing policies and procedures in consultation with employees
incorporating the values and principles in induction and other staff development programs
rewarding, recognising and promoting employees who exemplify the values and principles
enabling employees to raise concerns about application of the values and principles.
Developing ethical skills
The values and employment principles guide our relationship with the Government, community and each other but what do these mean in practice?
Ethical behaviour means always taking the high road when making decisions. For managers it also means leading when managing yourself and your staff.
There are tips for sustaining an ethical workplace so that ethics become a natural function of your organisation. Try these activities:
lead your team in discussing a workplace problem in your next team meeting
start a discussion about the values and principles the next time you make a major decision
read the code of conduct, examine your own behaviour and challenge misconduct in the workplace
speak to HR about how you can develop a values-based organisation
Put the values and employment principles on display, not only through your behaviour, but also by hanging posters in your foyer, lunch room or workplace.
Take the GIFT Test the next time you are offered a gift, benefit or hospitality at work.