When to use this guide
as part of the induction to your first management position
as a refresher after your first three to six months in your new management role
as a reference to look up ideas to help deal with management challenges you may face.
Why use this guide
help you be successful in your job as a manager in the Victorian public sector
increase your understanding of what the 'manager' bit of your job entails
learn more about your strengths and weaknesses as a manager
identify your skill gaps and set your priorities for building knowledge or learning new skills
identify further resources to help you in your day-to-day work.
What's in this guide?
The diagram on this page shows how the information in this guide is organised: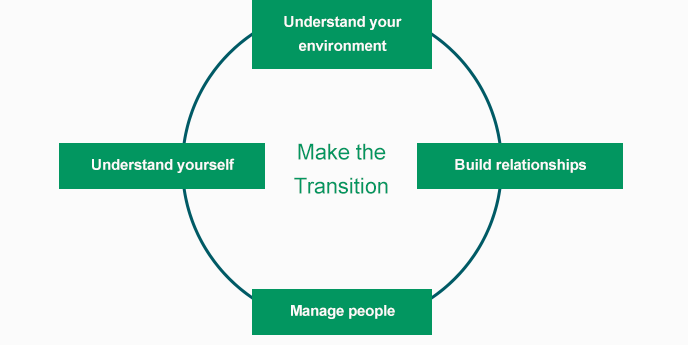 The core task for all newly appointed managers is making a smooth transition to their new role and coping with the changes to their work and maybe even personal lives. Surrounding this core are four domains of management.
Within each domain, there is a set of skills that needs mastery. The chapters in this guide include discussion of public sector expectations and standards, real life examples, self-assessment activities, and pointers to other resources that can help you.
What's not covered
This guide does not cover financial management, project management or general public administration requirements. These will vary across organisations. Please speak to your manager for guidance.
Assumptions
This guide assumes that you are, or are about to be, newly appointed to your first management role in the Victorian Public Service or public sector. It does not matter if you have management experience in other sectors. There will be some matters that are specific to public sector management and some topics will cover generic management skills.