Bullying is an issue of significant concern for all workplaces. Data from across the Victorian public sector shows it to be a sustained, and on-going, problem, despite the best efforts of public sector agencies.
However, that same data also shows that organisations can change, when they focus on improving workplace culture and managing poor behaviours.
VPSC has identified a program of activities for 2017, to gain insight into bullying behaviours across the sector, and to help agencies address and prevent them.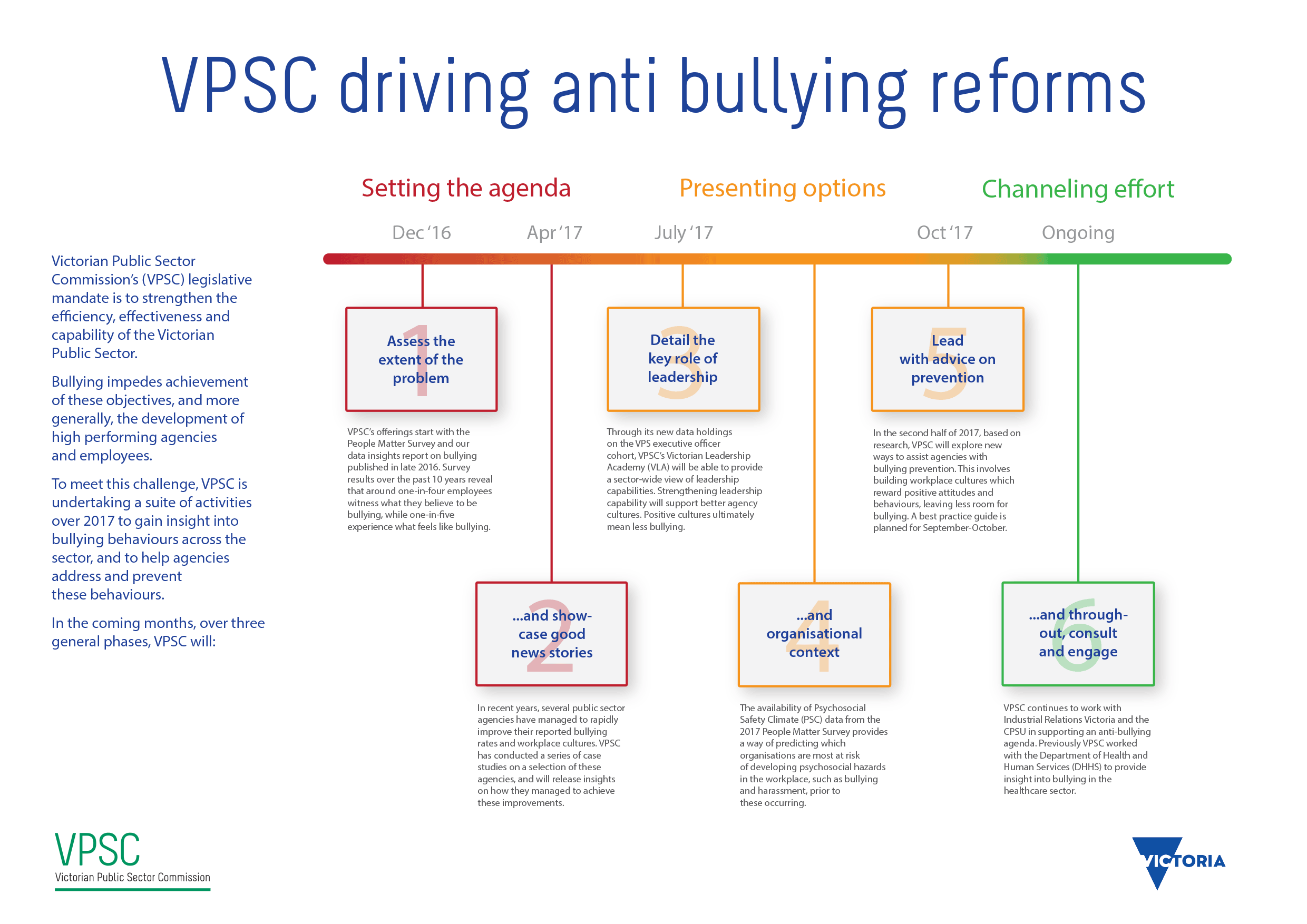 View full size image.
Download image for A3 printing [PDF, 163KB]
View infographic full-text description.
Assessing the extent of the problem..
The People Matter Survey (PMS) seeks the opinion of public sector employees on a range of issues including workplace culture, employee engagement and job satisfaction.
VPSC uses multiple years of survey data to analyse trends in workplace culture.
As has been reported, the rate of poor behaviour has not significantly improved over time, despite the best efforts of agencies.
The rich PMS data allows VPSC to look deeper into the problem and consider causes. Identifying causes and indicators then enables us to develop early intervention strategies; preventing poor behaviour before it becomes a big issue.
Explore:
Showcasing some good news stories
PMS also identified a number of public sector agencies that have experienced a signification reduction in employee perceptions of workplace bullying over a 5 year period.
Positive outcomes like this show that change in organisations is possible, and demonstrate the value of the PMS in surfacing issues that organisational leaders can tackle.
VPSC investigated these improvements in more detail to identify common themes to promote change, and also common problems and impacts. Some of their findings include:
7 common themes that addressed poor behaviour and improved staff wellbeing
Leaders modelling the values and taking decision action
Setting clear processes for submitting and managing grievances
Empowering staff through training in awareness and self-resolution before issues escalate
Empowering leaders through training in conflict resolution, how to have difficult conversations
Importance of communication, especially during periods of change
Encouraging positive workplace behaviour through open, transparent communication, rewarding positive behaviours
Focusing on organisation culture, health and wellbeing programs
The case studies demonstrate that while workplace bullying can come in many different forms, there are a number of common approaches that have been successfully employed to help turn the tide on bullying in the workplace and improve workplace cultures.
We have published those case studies, based on interviews with both senior leaders and employees, as "Turning the tide on bullying and poor workplace cultures: The case studies"
Explore: